Building A Tribe
Posted On December 3, 2013
I referred earlier to the Euro-American Retreat and the too brief time the ladies shared together. During that time, the goal was to build a tribe and share our stories. Everyone has a voice – some use that voice more freely than others. Some are able to easily make friends while others are more cautious. No matter what our level of introvert or extrovertedness, we need relationships.  God made us relational – both so we would crave a relationship with Him and also so that we could learn interdependence with other believers. Paul's writing conveys this in Titus 2.
Whether in our individual church families, our MOPs groups, our FRGs, or other social circles, we are building a tribe, coming alongside one another (the purpose is up to us). As for me, I come alongside others to encourage and be encouraged, to seek wisdom or offer insight when I have it, and sometimes, just to quietly reflect with others sharing a similar journey. Like the builders in Nehemiah 3, each person next to us is there for a reason. Not all will be of like faith, each of us will be in a different stage of faith, some may not even speak the same language. We probably can't even name everyone that has helped us along the way – some people work quietly on the sidelines, some are only in our lives for a short time, sometimes we don't realize a lesson until much further along the project.
Building a wall is perfectly illustrated in the setting for the Retreat, Rothenburg ob der Tauber. This city maintains its wall which seems untouched by time.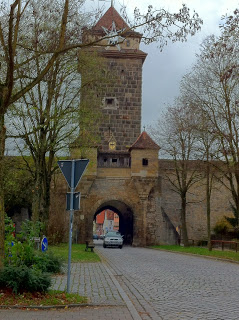 I "grew up in church", went to a Christian college, and my first "real" job was in a Christian children's home. My story is not a Paul on the Road to Damascus conversion, but it is also not one without bumps along the way. Many faithful Christians (especially my own family) are among the first people that stood next to me, helping me build my faith (wall). Recent years, and living further and further from family created a need for other people to help me build the wall. People have helped us financially, prayed with and for us, and even provided food and free babysitting. I previously wrote about one wall builder in Germany, and while there is only one Miss Sue, she wasn't alone in easing our transition or being a prayer warrior when we most needed it. A couple of us joked (but with a big dose of seriousness) that Sue's prayers led to our healthy babies. She prayed for a new life with us and for us. Her prayers work! I hope someone says the same about my prayers for them some day. I've also met two talented ladies that have captured some great family moments for us. I'm often the one taking pictures in our family, so I spring for professional ones as often as the budget will allow. I have sisters all over the world, but because of the opportunity to live overseas I have met and developed relationships with them. I couldn't make an exhaustive list if I tried. I'm thankful for all who have helped, are helping, and will help me with the building of a wall – and I'd be honored to help you with yours as well.