Bruschetta Chicken Bake
Posted On January 18, 2012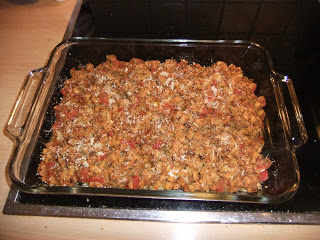 (adapted from a Stove Top recipe). The Stove Top chicken flavored stuffing is egg-free, making it an ideal substitution – at least until I brave making my own egg-free cornbread and making a variation of my grandmother's dressing (which will be nowhere near as good without the eggs…).
1 1/2 cups Italian Diced tomatoes
1 pkg Stuffing mix
1/2 cup water
2 large boneless, skinless chicken breasts, diced
1 cup shredded cheese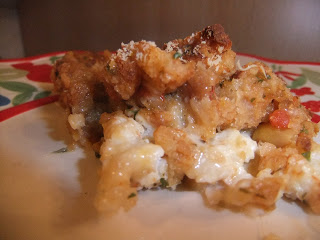 Parmesan Cheese
Heat oven to 400*. Mix sauce, stuffing mix, and water until stuffing is moist. Layer chicken and cheese in a 13×9″ baking dish. Top with stuffing. Sprinkle with Parmesan cheese. Bake for 30 minutes or until chicken is done.