Barbecue Brisket
Posted On March 25, 2013
This is for a 4-5 pound beef brisket (or in German a rinderbrust)
For the rub:                                            For the sauce:
2 Tbsp. Liquid Smoke                            1 can (28 oz) crushed tomatoes (I use Italian style)
1 tsp. garlic                                            1/2 cup apple cider vinegar
1 tsp. onion flakes                                  1 Tbsp. splenda brown sugar blend
1 tsp. celery seed                                   1 tsp. chili powder
1 tsp. seasoning salt                                onion flakes to taste
2 tsp. white vinegar                                 garlic and season salt to taste (or any other spices you like)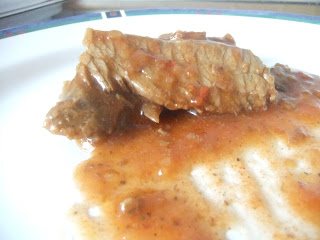 Mix rub ingredients together in a large freezer bag. Place the brisket in the bag. Check that the bag is fully sealed, then shake to coat the meat. Allow the meat to sit over night.
Mix all the sauce ingredients together with a blender, food processor, or Magic Bullet.
Pour enough oil in the crockpot to cover the bottom. Place the brisket in the pot. Pour the sauce over the brisket. Cook on high for 4 hours, or low for 8 hours, until a meat thermometer reaches 170*
This turned out tender and delicious. This recipe is soy, nut, peanut, egg, dairy, and gluten free.