After… Then What?
Posted On July 21, 2015
After worship last week, I planned to make cookies for Vacation Bible School. Instead, I took Madilynn to the Emergency Room due to an allergic reaction.
After the Emergency Room, I messaged the few people in the short window of time in which I had no control over Madilynn's environment. In a matter of minutes, I narrowed down the great big West Texas environment to a first-time exposure to peanuts.
After settling this matter, I finally made the cookies. I already make cookies egg and peanut free for Dietrich. These cookies now became the only ones either of my children could eat at VBS.
Vacation Bible School is enjoyable to me, even as an adult helping teach the children. Less enjoyable was dealing with Madilynn's mood and sleep disturbances caused by the steroids prescribed by the ER doctor. About thirty minutes to an hour after taking the medication, she would become inconsolable or hyper. This made a filled week longer.
After VBS, after the medication, we went for a follow up with our new doctor. We have new insurance. I attempted to take care of adding the doctor before the appointment, but something did not work and we waited about an hour for that to get cleared up before we finally saw the doctor. After he declared her healthy and said he'd call in an epi pen and set up an allergist referral, we went home.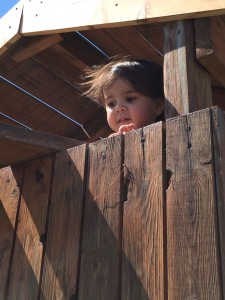 This week, I feel as though I left part of my brain at the ER. I am exhausted. I forget everything.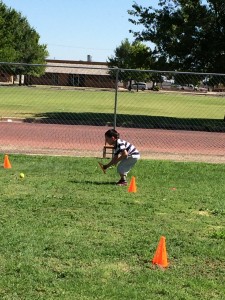 I still haven't managed to go pick up the new epi pens (we have some already. I wanted an additional set in the event we have to use them). As I thought about this one-word challenge, I recalled how often in life we focus on the future rather than living in the moment.
Things will be better after we move.
After we get our household goods, things will calm down.
After potty training…
After school years…
After ….
Even worse, all the times I say, "Wait until after I finish…" Truly nothing is more important than my children and I do care for all their basic needs. I do not always respond in patience to the dozens of "watch this" or "look at this" when it's the same thing over and over. They will only be in my home for a little while. They are on loan to me from God and after I send them off into the world, they need to have the skills to overcome the world.
This post was part of the One Word Blog Linkup hosted by, Janine of Confessions of a Mommyholic and Lisa of the Golden Spoons! This week, the word prompt choices were After and Pretend. If you would like to join the linkup you can find more information HERE, sign up for weekly emails HERE, and/or join our Facebook group HERE. Every Friday, two prompts are emailed. Choose one and write a post using that word as inspiration. Linkup up any time between 6:00am EST on Wednesday-9:00pm EST on Thursdays on any of the host sites.
Sometimes I link up with other amazing bloggers.
Follow me at Follow