A special treat: Chocolate Chip Cookies
Posted On February 7, 2011
This is an adapted version of the original TollHouse recipe. You can also check out our video!
2 cups flour
2 tsp. water (for higher altitudes)
2/3 cup each white and brown sugars
1 tsp each baking soda and salt
2 sticks butter
1 tsp. vanilla
2 Tbsp. Fat free sour cream (to replace two eggs) OR white corn syrup OR nothing (but you may need a little water/milk for binding)
One bag chocolate chips. For those with any food allergies, the Enjoy Life brand is nut, egg, gluten, soy, and dairy free!
Mix all. Drop by teaspoons on pan. Bake at 375* for 8-10 minutes.
Now, I'm sure you are wondering, "Is it really as good without the eggs?"
Well, YES! And here's my proof: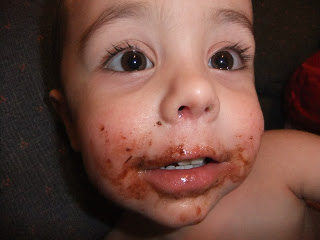 Besides that, from batter to finished product, they look just like "regular" cookies