Wearing my new Fitbit as I go back and forth seeing to this and that pondering all the never ending tasks of running a home.
Laundry (yet so thankful for the modern convenience of a washer and dryer!)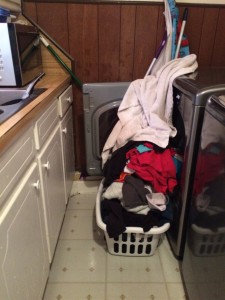 Dishes (again thankful for the dishwasher for most of what we use)
Cooking (but we are blessed with more than enough to eat)
Other cleaning such as sweeping, wiping off tables, etc. (we are not without a roof over our heads, even during a time of
transition
)
Then my mind turned to the more important Mary things, rather than the mundane Martha things that must not ever end
(read about Jesus's words to Mary and Martha
here
)
Showing my family love, in words and snuggles and acts of service
Teaching my children first about God and then about everything else
Praying with and for my family
Reading and learning from the Word
While the laundry pile may be never ending in this lifetime, the consequence for choosing the distractions over the better things is eternal. God's love endures forever. His grace reaches as far as the east is from the west. His forgiveness is unfathomable and complete, erasing our sin. My chores seem incredibly insignificant in light of eternity. Not unimportant, that's not what Jesus said. The problem here was Martha putting her "To-Do" list first, being distracted by the world, and worried about all that she felt should be done. I don't know that my way is the right way, here are some things I do to keep an eternity perspective:
I teach my children how to run the home, that is, how to live responsibly and take care of their stuff. They often work alongside me.
I often sing praise and worship songs or old hymns while I work. I welcome others to sing along, however, I tend to be singing a solo in a one-woman musical.
I constantly have prayers going through my head.
I often have scripture running through my head as well.
Whatever is running through my head tends to fall out of my mouth, and my children hear some of it.
Though I continue my pacing to and fro, even while writing this, checking on the children, changing diapers, providing snacks, each of these tasks is hopefully showing them how much I care for them. As they play together, I pray they are learning valuable lessons in patience and getting along with others, or at least that they will, eventually. These are formative years after all. As Dietrich does school work while Madilynn colors or tears up stickers or notebooks, I pray that the fundamentals stick in their brains so they can easily learn the bigger things later. I pray their strong wills and argumentative skills turn into critical thinking and the ability to defend what they believe.