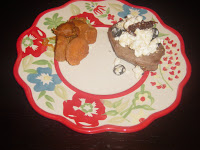 Greek stuffing (reduced fat feta cheese, olives, sundried tomatoes, and garlic)
We are a meat and potatoes family. The Greek stuffing is an adaptation of a lamb recipe my Aunt Pam uses, but we loved it so much, we wanted to try it with steak.
If you try it, leave your comments on how you like it!