Skillet Lasagna
Posted On January 17, 2012
Another adaptation of a Weight Watchers recipe. The original recipe calls for egg noodles. Obviously, I had to find something else since Dietrich is allergic to eggs.
16 oz. of low-fat turkey sausage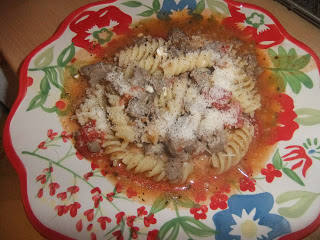 1 1/2 cups low fat cottage cheese
8 oz. spiral noodles
8 tsp. Parmesan Cheese
2 1/2 cups tomato sauce, seasoned
Cook sausage. Add noodles, cottage cheese, sauce, and half of the Parmesan cheese. Cover and let simmer for 10-15 minutes, pushing the noodles down occasionally to be sure they cook through. Sprinkle with remaining Parmesan cheese.