If you've read this blog, you've learned that I have allergic children. What I may not have mentioned is my own allergy story. As a child, I suffered from severe seasonal allergies and chronic sinus problems. My tonsils and adenoids were removed when I was eight years old. I had sinus surgery when I was ten – a surgery typically avoided in children because the bones are not finished growing. Fortunately, the results of that surgery were still evident in my last CT Scan. The only problem ENT's have seen since then is a deviated septum. For various reasons, I keep delaying that surgery – but that is not part of THIS story.
Due to my allergies, it seemed to others that I was sick A LOT. In high school, I participated in Marching Band. In Texas, this is the height of ragweed season, which is one of my biggest triggers. Every Friday night, my eyes and face would look much like sweet Madilynn's did after getting hold of nutter butters. By about Tuesday, I would clear up only to repeat the cycle in a few days.
I received allergy shots from about age 11-13, until we moved. I attempted again when I went to college, but the nurse giving my injections was doing something wrong as my arm swelled every single time so I never built up to a maintenance dose. After college and grad school, when I had my own insurance at my first job, I went to an allergist again. My cousin (very pregnant at the time) came  with me as my "just in case" person, in retrospect a possibly questionable plan. My entire back swelled up (every tree, grass, and weed pollen tested came back positive). This clinic offered "rush immunotherapy" – basically about two years worth of shots in one day. As a result, within about 3 years, I had 5 years worth of immunity built up and partial "curing" of my allergies. The allergies that still came back high were the tree pollens (but they at least went from off the charts down to a three). All of this was before I married and moved to Colorado. When I moved, I was unable to continue my allergy shots. I took Zyrtec when I needed it and avoided nose sprays even when they were prescribed (I have an aversion to nose spray since the sinus surgery except for saline). Fast forward to life in Germany: new allergens, new problems. We lived in the country and had fields all around us, fields that bloomed with beautiful little yellow flowers – rapeseed – used in canola oil and also biofuel, also highly genetically modified and nearly everyone is intolerant to it in some way. We also had forests around, with cottonwoods, fully producing cottonwood. Some days it looked like it was snowing the "cotton" was so thick. This happened every April/May. In 2014, my symptoms hit an all time high: I was taking 2 Zyrtec at a time (morning) and then 4 Benadryl every 4-6 hours just to manage the symptoms – and I wasn't really managing them. My face was swollen, eyes too puffy to wear contacts, constant sneezing and runny/stopped up nose. My friend Jennifer came to visit in May and she had been using Young Living Essential Oils for a little while, and another mutual friend had been with them even longer. Jen told me about different oils that may help with allergies. I tried them and they worked for me. Now when I have an allergy flare, the oils are my go to and IF I need the extra support of an antihistamine, I am able to take a normal dose. **These statements are my experience. Essential Oils are not intended to diagnose, treat, or cure. These statements have not been verified by the FDA.**
Also while in Germany, I started making my own laundry detergent, partly due to cost and partly to use fewer man-made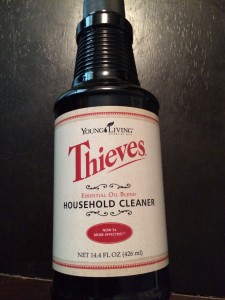 chemicals. As much as I can, I like using natural cleaning solutions (vinegar is amazing stuff!). I am very likely allergic or intolerant to something in the household cleaning products as I have a sneezing fit every time they are sprayed. Young Living's Thieves household cleaner is versatile. It can be used for laundry, in the dishwasher, as an all-purpose cleaner and for mopping. Thieves safely cleans and purifies the home and smells great. Best of all, I don't sneeze or feel sick when I use it.
Those are my biggest reasons for using essential oils. You can find out more by following the link to my Young Living Site or Facebook Business page.