The title sums up how things are going with our move (I combined the names of today's link ups to create it). Every few boxes, a new and unpleasant surprise awaits. Most of Sunday's box openings contained such gifts.My husband's goal for the afternoon was to assemble our German Shrank (wardrobe). Apart, it has many pieces which take up a lot of space. We also knew we could use the Shrank for storage. One of the items labeled "Shrank parts" actually is the mirror to the dresser of the matching bedroom set – the one
previously mentioned
. The mirror also did not survive intact.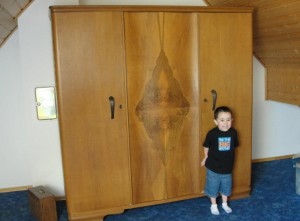 That center piece is not a carving, but one solid piece of the center of the tree – uncut (smoothed, but not otherwise altered).
This is in our Germany "apartment"
My goal for the afternoon was getting things put it the Shrank after its assembly.  The movers seemed content to put things in already packed and labeled plastic bins – for example, every one of my holiday boxes had a layer of books on top. I am exceedingly grateful that the last Christmas we were in Germany, I had the forethought to store the fragile ornaments
separately, since we weren't going to use them with tile floors and a toddler. Then, I opened a box that contained the printer, the Bundt and Angel Food Cake pans, and our dirty towels from our last night in our house in Germany.
I'm not sure how many more "surprises" like these I can handle, but thankfully, I'm running out of boxes. The downsizing
is going well, even as the damages are piling up. (I will not be posting any picture of the damages until after the claim is filed and paid). As we sort through our belongings, I am trying to teach Dietrich about generosity and sharing with others. Even at almost 7, these are hard lessons. He doesn't want to part with anything. I understand because I have some things that I still can't part with, even if they serve no practical use – they are of sentimental value. Dietrich told me one day last week he will still play with his trains when he is "all grown up."
On this Manic Monday, I will continue singing, even as I work through the unexpected. I will show my children how to be good stewards and pay it forward with the many blessings we have been given in this life. I will make it a good morning, and maybe today will be the day I get the stuff off the table.