Specifically, I live in Worsbach, a tiny village in Rhineland-Pfalz, Germany. (by tiny, I mean there is no school nor do we have our own bakery). The larger area in which we live is known as the Kaiserslautern Military Community, or Ktown, to the military folks. My list will pertain to both.
1. The peace and quiet of living out in the country.
2. Our AMAZING landlords. They live downstairs, yet do not intrude. Any time we have an issue with the apartment, they are quick to respond.
3. Living in a smaller district, Dietrich had the opportunity to attend German Kindergarten. If a German child needs the spots, the American kids are asked to leave. German Kindergarten is free. Dietrich has learned German – I'm fairly sure he's fluent. He's (still) learning to associate with peers his own age and get along. The blessings of his time there are too numerous for this post.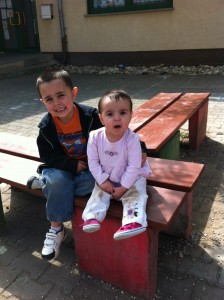 4. For the most part, Germany has clearly defined seasons, at least compared to Colorado or Texas. Winter is cold and dark. Fall is wet. Spring can be cool, though is so far quite pleasant. The summers we have been here have been record breaking (as in over 100 some days, very rare). The downside to the summer is no A/C, but Germany has plenty of pools!
5. I will have to agree with
Tamika
 – probably about a couple of things on her list, but specifically – living in Europe is amazing simply for the food! You can try foods from a variety of countries without leaving the area.
6. One of the perks in this military community is the quarterly bazaars on post. Vendors from all over Europe come and sell their wares. Dutch cheeses, Belgium chocolate, Welsh Love Spoons, Lavender from France, hand painted ornaments, Turkish rugs… I can't even list everything. Maybe I'll snap a picture tomorrow.
7. Military life tends to make the world a little smaller. In Colorado, I could go out and run errands and rarely run into someone I knew. Here, any time I go to the commissary, BX, post office, or even Globus, I'm bound to run into a friend, either from the unit, church, or MOPs.8. Our church family. Though the group of saints gathering sometimes changes weekly, nothing compares to knowing you can count on them.
9. Travel opportunities – the majority of which will be happening between now and November 1st – ish.
10. The 80s are still in style here!