A friend I met at the Euro American Retreat started a 10 things Thursday blog hop this week. This week: 10 things I am most looking forward to about spring. Germany seems to have more drastic changes in the seasons (or even in a day) than either Colorado or Texas. Here is my list, in no particular order:
1. More sunlight! No one told me before moving here how lacking in sunshine the winters can be.
2. Warmer temperatures.  Spring time temps here are moderate, not overly hot but not cool either, simply perfect for
3. More time outside with the kids. In the cooler temps, playing at the playground quickly becomes unpleasant for the one year old, leaving the mommy impatient, and the five year old upset that we have to leave.
4. Visits from family and friends. This visit, we will actually get to do some site seeing!
5. The first Bazaar of the season. The post where Peter works has quarterly bazaars with goodies from all over Europe.
6. Delicious fresh fruits and vegetables at the open markets (farmer's market)! The best strawberries I've ever had came from the market downtown last year and they were the first of the season.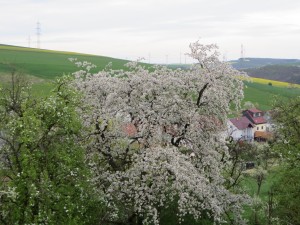 7. Blooms on the apple tree by our carport.
8. Thunderstorms.
9. Cookouts. While I love cooking indoors, there is just something fun and exciting about cooking on a grill – rather, watching Peter cook on the grill.
10. Watching my children continue to grow and learn. Hopefully, Madilynn will give up the crawling and walk.